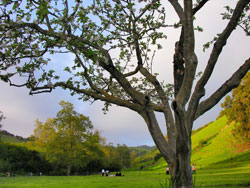 Dates: Saturday, April 28, 2018 to Sunday, April 29, 2018
Time:  April 28 at 2 pm to April 29 at 12 pm
Location: Arroyo Flats Group Campground Garin Regional Park, 1320 Garin Ave, Hayward, CA 94544, USA
Cost: Free to all paid scouts and their families.
Attire: Class B under Class A uniform
Come join us for Pack 1776 Spring Camping at Arroyo Flats Group Campground at Garin Regional Park in Hayward, CA. The camp site can sleep up to 75 people. We have a fun, action-packed agenda. Scouts should arrive in Class A uniform with Class B shirt underneath.
Everyone should bring a foil wrapped dinner, a refillable water bottle, flashlight, folding chair, and sun protection. Wear sturdy shoes for hiking. Bring warm clothes as it may get cold after dark. For those staying overnight, you must also bring your own tent and sleeping bag. The pack will supply snacks such as smores and drinks on Saturday and breakfast on Sunday morning.
Agenda:
Saturday
2:30 to 3:00 - Leaders and Camping chair arrive at camp
3:00 to 4:00 - Arrive and set up camp
4:00 to 4:15 - Flag ceremony
4:15 to 4:30 - BBQ prep (Parent Volunteers)
4:30 to 5:30 - Hike
5:30 to 6:00 - Capture the Flag/Cook Foil Wrapped Dinners
6:00 to 7:00 - Dinner
7:00 to 7:30 - Fun Activities
7:30 to 8:30 - Camp fire, skits, games, snacks
8:30 to 9:00 - Get ready for bed
9:00              Lights out
Sunday
7:15 to 7:45 Start camp fires, prepare breakfast
7:45 to 8:30 Free breakfast provided by the Pack (coffee, hot chocolate, juice, muffins, croissants, bagels, and fruits)
8:30 to 10:30 Morning Activities
10:45 to 11:00 Closing Ceremonies
11:00 to 12:00 Break Camp and Leave