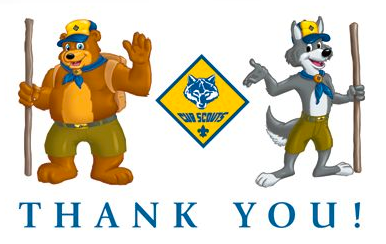 Pack 1776,
Our Scouting for Food event was once again a huge success and I want to take this opportunity to thank program coordinators Stella Lei and Ada Ip, the Den Leaders and all of the Scouts that participated.
Our scouts were able to fill a 6x10 trailer with donations for the needy and this large collection made quite an impression at the Food Bank collection center.
Thank you for helping make the Thanksgiving holiday a little brighter for those that are less fortunate. This event is at the heart of what Cub Scouts is about.
Happy Thanksgiving to you and your families. Have a safe and wonderful holiday.
Cubmaster Macey
Quick Links
Upcoming Events
Recent Posts
Archives
Categories
Tags
Den Sites