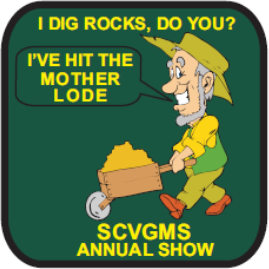 Date: April 20 & 21, 2013
Time: 10am - 5pm
Location: Santa Clara County Fairgrounds, 344 Tully Road, San Jose
Show admission: Free for children under 12 and scouts in uniform. Adult $5 advance purchase or $6 at the door.
Kids area admission: $3.00 per scout, free for adults.
Awards: All Cub Scouts will have the opportunity to earn their Geology Belt Loop and Geology Academic Pin. Webelos will have an additional opportunity to earn their Geologist Pin.
Boy scouts, cub scouts, and girl scouts are invited to visit the Santa Clara Valley Gem and Mineral Society show and Kids Area at the Fairgrounds on April 20 and 21. Learn about geology, get a beginning rock collection, a rock bag, and a show patch. Choose a day and time slot to visit and send in your sign up form and check by March 31st. See SCVGMS flyer and website for more detail.
This is not a Pack 1776 event but a community event open to Scout groups.