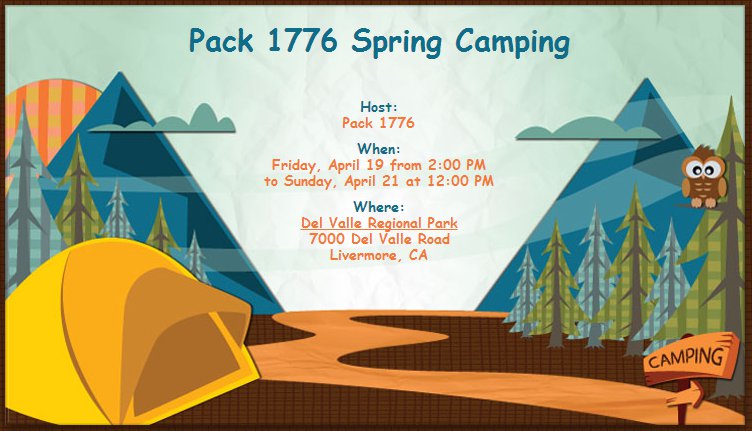 Pack 1776 Families,
Come join us for some spring camping at beautiful Del Valle Regional Park!!
Del Valle Regional Park, part of the East Bay Regional Park District, is located in a valley framed by oak-covered hills. The centerpiece of the park is a five-mile long lake, with all kinds of water-oriented recreation, surrounded by 4,316 acres of beautiful land for hiking, fishing, horseback riding, and nature study. Del Valle is also the eastern gateway to the Ohlone Wilderness Trail, 28 miles of scenic back country trail. The campground has ample bathrooms and showers and the average high temperature in April is 71° and the average low is 46°.
More info:
Park website: http://www.ebparks.org/parks/del_valle
Park map: http://www.ebparks.org/Assets/_Nav_Categories/Parks/Maps/Del+Valle+map.pdf
The cost is minimal and reduced from past trips - $10 per person for each night staying (i.e. 1 Adult, 1 scout staying two nights = $40) which covers the site, food, and all activities, belt loops and patches. If you decide to stay less than the two nights, please let us know which night you are staying.
We also encourage all families to bring their own reusable dining sets for meal times to reduce our trash and our Pack footprint.
Payment MUST be received BY April 1 to secure your spots! This is to allow for proper planning and selection of helpers. No excuses please. A standard policy of No Refunds applies. We are limited to 50 campers for this trip so get your payment in early to reserve your spot.
Please send (or drop off) checks payable to PACK 1776.
Please feel free to contact me with questions via email.
Scott Spears
Camping Chair