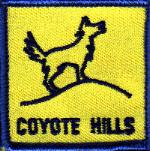 Date/Time: Saturday, December 12, 2015, 10am-12pm
Location: Coyote Hills Regional Park, Fremont
Meeting Point: Visitor Center Parking Lot
Parking & Fees: Parking at the Visitor Center. $5 parking fee.
Attire: Class A or B uniform (dress in layers)
Award: Trail Trekkers patch
Hike Info: SFBAC file
RSVP: Evite
Contact: Hiking Chair Siddharth Bhatia
What to Bring:
Plenty of water, snacks. Wear clothes appropriate for the weather.
binoculars, camera (optional)
layers of clothing appropriate for the weather
Plenty of water and snacks
Sack Lunch (optional) Scouts can have lunch after the hike.
The hike at Sycamore Grove park was a nice and easy one so let's do something more exciting in December. After all, we need to burn all the calories from all the yummy food we eat during the holidays.
Our next hike in December will be an moderate hike at Coyote Hills Regional park in Fremont. The trail is about 4 miles long with few short hills. Tiger scouts are encouraged to participate. The kids will enjoy walking on the boardwalk and we will stop at the wildlife viewing platforms to observe water fowl and possibly muskrats. We might see some herons and cranes that visit the bay this time of the year as they head south for the winter. On a clear day the views are great.
Coyote Hills is an important wildlife sanctuary. Its marshes are part of the Pacific Flyway, an aerial highway for migrating waterfowl and other birds. Deer are frequently seen here, as well as raccoons, foxes, muskrats, and skunks. We will look for their tracks in muddy areas.