January 26, 2020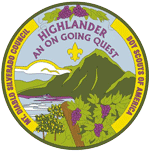 Date: Sunday, January 26, 2020
Time: 2 pm
Location: Briones Regional Park
Attire: Class B
Award: Highlander Briones rocker patch
Fees: $3 per vehicle (when kiosk is attended)
Meeting Point: Bear Creek Staging Area
Contact: Hiking Chair Sundararajan
RSVP: Evite.
Distance: 2.2 Miles Elevation: 613 feet Download Map.
How to get there
Bear Creek Staging Area: From Highway 24, take the Happy Valley Road exit and go north. Turn right at Bear Creek Road, take the 1st right onto Briones Valley Rd (37.925776, -122.162733).
Parking
Make an immediate left after the kiosk and park in the lower lot.
Details: