Sunday, January 26, 2020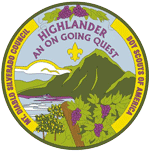 Date: Sunday, January 26, 2020
Time: 1 pm
Location: Briones Regional Park
Attire: Class B
Award: Highlander Briones rocker patch
Fees: $3 per vehicle (when kiosk is attended)
Meeting Point: Bear Creek Staging Area
Contact: Hiking Chair Sundararajan
RSVP: An Evite will be circulated. Check back here for details.
How to get there
Bear Creek Staging Area: From Highway 24, take the Happy Valley Road exit and go north. Turn right at Bear Creek Road, take the 1st right onto Briones Valley Rd (37.925776, -122.162733).
Parking
Make an immediate left after the kiosk and park in the lower lot.
Details
The Briones Regional Park Hike is at least three miles with some moderate uphill in the beginning and an easy down hill on the last half. There is a nice picnic area at the half point with portable bathrooms and tables to take a break. The hike will start at the Bear Creek Staging Area.